Wedding packages. Your Day Captured. Your Way.
by Cork's leading wedding photographer
Being a wedding photographer I don't believe in making couples perform generic, cheesy poses. My job is to capture moments and memories of people when they are at their most natural and most relaxed. So don't worry, there'll be no over-the-topposing required! I offer 3 wedding packages see below:
Digital Wedding Packages €1500
All images professionally supplied in digital format
• Pre wedding meeting at my studio to discuss all aspects of your day
• Advice on shoot locations convenient to your wedding venue
• Morning preparations to dinner bell covered
• All photos professionally edited (approx. 600 images
• High resolution USB of all images, ready for personal printing
• First dance optional add on €250
Luxury Wedding Packages €1560
BOOK NOW TO SAVE 20% ON THIS PACKAGE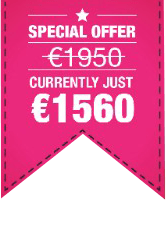 All images supplied digitally.
• Pre wedding meeting at my studio to discuss all aspects of your day
• Advice on shoot locations convenient to your wedding venue
• Morning preparations to dinner bell covered
• All photos professionally edited (approx. 600 images) 
• High resolution USB of all images, ready for personal printing
• Drone photography (weather, location, time and daylight permitting)
• 30 page 12×12 inch album holding up to 100 images
• First dance optional extra at €250
Premium Wedding Packages €2500
Maximum coverage, images supplied in digital and print formats
Maximum coverage, images supplied in all formats, first dance captured
• Pre wedding meeting at my studio to discuss all aspects of your day
• Advice on shoot locations convenient to your wedding venue
• Morning preparations to first dance covered
• All photos professionally edited (approx. 600 images) 
• High resolution USB of all images, ready for personal printing
• Drone photography (weather, location, time and daylight permitting)
• 12×12 inch, 30 page wedding album containing up to 100 of your favourite images
• 2 parents albums (8×8 inches)
TED WE CAN'T THANK YOU ENOUGH FOR THE AMAZING JOB YOU DID ON OUR WEDDING DAY. YOUR WORK IS JUST EXCUISITE, YOUR PROFESSIONALISM IS UNLIKE ANY OTHER – PROMPT WITH RESPONSES, SUPER CREATIVE, YOU TAKE WEDDING PHOTOS TO A WHOLE NEW LEVEL

Ask Ted About Your Wedding Packages